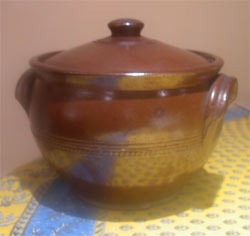 Although my mum gave me a superb giant Le Creuset casserole a few months ago we have no medium sized casseroles for the oven. So when I spotted this wonderful old stoneware crock pot gleaming out from the Cancer Research shop window this morning, I was drawn across the road. The diminutive price tag had me standing beside the till within seconds with the coins in my hand.
"Now what have we got here." The lady counted out the change and glanced quickly up at me. "Is it only £3.50?"
"Well yes."
She gave me a long look, perhaps assessing if I'd pulled off a sticker swapping heist.
The pot's probably older than me but doesn't have the chips and wear that one would expect from such an ancient vessel. Just a cosy roundness and the promise of lifting the lid to wafts of something delicious. I wouldn't have been surprised if we had seen one of these in the Victorian kitchen at Audley end when Magic Cochin and I visited on our Interblog Garden Event. They had a lot of pots and pans that I remembered being used when I was a child.
As I drove slowly home, my new friend stowed carefully on the seat beside me, I marvelled at my good fortune. Perhaps next week they'll have the longed for bastible for under a fiver.
Leave a reply