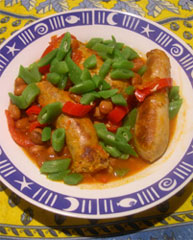 Sometimes it's chilly on a summer's evening and we want to eat something comforting. In the winter we eat a superb heart warming sausage casserole so I decided to make a summer version with loads of fresh tomatoes and long red peppers. We had some sweet and hot pickled peppers (American) in the larder so I chopped and deseeded them and popped them in too to give the dish a bit of a zing. As you can see from the photo, the overall colour scheme was red. I peered into the pot as it simmered away and considered a fresh coriander garnish and then I remembered that we have runner beans in the kitchen garden. It's the start of the RB season for us and easy to forget how quickly they grow.
I strolled down the garden with the Min Pins and picked a sizeable handful. This is always a pleasure, checking to see the size of the future harvest. From the doll's house size beans, to the toy, to the beans that are large enough to pick . I cooked them seperately and scattered them over each bowl as a sort of hefty garnish. The combination was perfect, deep flavours with the foil of ultra fresh runner beans.
Comforting summer sausage casserole recipe (for 2-3)
Ingredients:
6 decent pork sausages (it is never worth even toying with the cheap ones)
1 tbsp of olive oil/rapeseed oil
1 tin of tomatoes
2 tins of borlotti beans (drained and rinsed)
1 tsp of good Italian/French mixed herbs or 1 tbsp of chopped fresh herbs – thyme, margoram. chives, parsley
1 clove of garlic (crushed and then chopped)
3 sweet spicy peppers such as Pepperdew peppers (chopped fine)
1 Romano pepper (the long, sweet red pepper). Deseeded and chopped into 1 cm rounds
4 ripe tomatoes (on the vine seem to taste best). Sliced into 1 cm rounds
1 large handful of fresh runner beans for the garnish
French bread (to soak up the juices)
Method:
Heat the oil gently in a large pan. Add the sausages and brown.
Add the tins of tomatoes and beans.
Add the garlic, herbs, sliced spicy peppers and stir.
Add the sliced peppers and fresh tomatoes bring to simmering point and simmer for 20-30 minutes.
Meanwhile tootle down the garden and pluck your runner beans or go to the fridge and locate your pack. De-string them and slice. Ultra fresh need to be tossed into boiling water, when brought back to boiling point they will need about four minutes (I usually test after 3 mins as I hate them overcooked). Runner beans from the shops can be prepared in the same way but probably need extra cooking time – sliced slim they will need abut 5-6 minutes. When you are slicing them, discard the tough ones. The knife tells all. Tough runner beans will never have that fresh straight from the garden taste and will muck up your timings.
Serve the sausage casseroles in warm bowls with the sliced beans scattered on the top and some warm crusty bread on the side.
Leave a reply