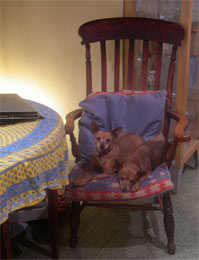 When my aunt died I found this beautiful old lath back Windsor chair forgotten in a store room. I couldn't leave it behind. It looked so inviting. The ultimate, comfortable kitchen chair.
I tentatively sat between its generous arms, half expecting to find the reason why it had been relegated to such an inferior place. It was as if it had been made to measure. I relaxed and laid my head against the top of the chair. A place where so many weary heads must have rested before.
When it arrived at the cottage I found that the underside of the seat had become home to a colony of woodworm. I was brought up by a woodworm exterminator. Any old furniture was drenched in Rentokil wood worm treatment . Forget Channel No 5, my teenage years were a filled with the heady waft of Rentokil that had permeated the clothes in my wardrobe and chest of drawers.
So I treated the woodworm and sometimes have to re glue a wobbly joint. His front leg became so loose this summer that he was propped out of action, at the side of the kitchen. He was out of the frame for weeks until I couldn't bear the separation any longer. I grabbed a pot of glue and spent an afternoon giving him a top to toe overhaul.
In the cottage kitchen this is the best chair and the chair that is always offered to visitors. An old friend, David, spent so much time in the cottage at one time that we named the chair after him.
David is where I sit to write these posts, often with a Min Pin tucked behind my back. David is my companion late at night when I am behind with a deadline. Sometimes I fall asleep in David and wake feeling rested and refreshed. I find his creaks reassuring. The kind and considerate voice of a old retainer.
The kitchen is the hub of the cottage and David is as important as the cooker. Essentials for a happy life.
Leave a reply