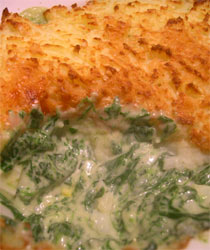 I decided to try a different sort of fish pie. One that was easy on the fish but tasty enough to satisfy.
My mum is addicted to Waitrose Spinach Mornay. If I incorporated spinach in a creamy sauce, our 325g of cod and the last two guinea fowl eggs of the season, I might be able to create something that would delight my mum and a weary Danny home late from Wales.
We have given up our Friday night steaksas part of our new mini challenge hatched by a comment from S.O.L. regarding saving money.
"It is becoming a game. How little can I get by on?"
However, Danny would need pampering so I pulled out all the stops for this recipe. To my relief it turned out well. Often when we are working on a new recipe it takes a few attempts to get it just right. Tonight the gods smiled on me.
As I was designing the pie for Danny, I gave it a mashed potato topping. This made it very filling. Dust the top with fresh breadcrumbs for a lighter supper or lunch dish. It made five mini pies (ramekins) for my mum and a pie big enough for three hungry people. The anchovy essence is an essential ingredient. If you don't have any you could substitute more cheese.
Delicious Cod and creamy spinach pie recipe (for six)
Ingredients: 
For the pie filling
325g of cod
500g of fresh spinach
170ml of single cream
300-350ml of milk (the sauce needs to be thick)
2 heaped tsp of anchovy essence
Quarter teaspoon of cayenne pepper
1 tbsp of finely grated parmesan cheese
2 medium or large eggs
Half a tsp of garlic granules or paste
Lashings of ground black pepper
50g of butter
80g of plain white flour
1 tbsp of finely grated parmesan
Potato topping:
450g of potatoes. Peeled and quartered
2 tbsp of milk
1 large knob of butter
Large handful of grated mature cheddar (or goat's cheddar)
Ground white pepper
Method:
Put the eggs on to boil for ten minutes and plunge them in cold water before peeling and roughly chopping them.
Cover the fish with milk and simmer until cooked – about five minutes. Strain the fish retaining the milk for the sauce.
Wash the spinach and place in a large saucepan over a medium heat. Stir every now and then until it wilts – about four minutes. Strain well and reserve in a warm place.
The béchamel sauce is made deliberately thick. Make a roux with the butter and flour and slowly add the milk from the poached fish, topped up with rest of the milk. When it has thickened sufficiently add the anchovy essence, grated parmesan, cayenne pepper and cream.
Meanwhile peel and chop the potatoes for the topping. Simmer until soft and put through a potato ricer. Stir in a knob of butter and a splosh of milk. Season well with ground white pepper.
Roughly chop the spinach and stir it into the béchamel sauce and pour into the pie dish. Arrange the cod and hard boiled egg over the sauce and spoon the mashed potato on top. Fork over the surface and scatter parmesan over the surface. Brown under a medium grill.
Leave a reply