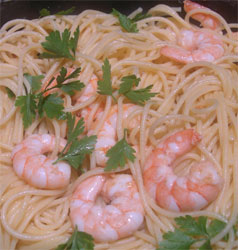 Donagh (pronounced Dunna) is Danny's youngest brother. He is a superb cook. When we meet the Dublin flight at Stansted he is Talking Food. The journey to the cottage is spiced with intriguing recipes and discoveries. Sitting in the back of the car, I begin to get nervous as I always seem to cook for Donagh's first night. Generally, it's a disaster.
The next day we shop, he doesn't buy the most expensive ingredients as we venture through the entire local tranche from Netto to Waitrose, with a dally at Tesco in between. In the evening he cooks and we swoon. As he drops into bed to sleep soundly, the air in the kitchen is filled with the thud of rejected cookery books.
"Why didn't we prepare for his visit?"
"We did, but the list has vanished."
Mysteriously, it's never Danny's turn to cook when his brother stays. Normally we take turns. Suddenly I am taking turns with his brother.
The thought of Donagh's king prawns in a garlic, chilli and lemon sauce has tiny hands clapping with glee here at the cottage. It is heavenly. Quick and easy. A no effort 'impress your friends' sort of dish. Sublime as a starter with fresh crusty French bread and that is how we normally eat it.
The secret is to buy raw prawns. Every supermarket has them, hidden in the freezer section. When you lift the diminutive bag from the freezer compartment, ignore the price. Once you have tasted this dish, you will be snaking back with a large wad of cash.
This is perfect fast food.
I was working at the weekend with no time to do the normal big weekly shop. This morning, I uncovered a pack of raw prawns in the freezer.
We ate the Gambas al pil pil with egg spaghetti tonight. Great tasty nosh prepared in 15 minutes. It was delicious and packed with flavour.
The other ingredient to watch out for is the chilli. Chillis can be powerful and sometimes demure. The chilli needed for this dish is on the medium side of hot. I used a dried chilli pepper that we bought on our trip to Como nine months ago. Barely 2 cm long, this little fellow had me reaching for the water within seconds of tasting the teeniest bit. Even though this chilli had me vowing to wear gloves next time it flavour didn't dominate the dish. Its intensity was perfect as it just seemed to enhance the delicate prawn, garlic and lemon flavours
Thanks Donagh. When are you coming to stay again?
Donagh's Gambas al pil pil recipe with egg spaghetti (for 2)
Ingredients:
200g of raw king prawns unfrozen (double the prawns for a starter for 4 with crusty bread but keep the other ingredients the same)
2 chunky cloves of garlic (very thinly sliced and chopped)
1 small hot chilli (finely chopped)
5 tbls of olive oil
Juice of one large lemon
1 tsp of salt
1 tbls of flat leafed parsley leaves (torn to garnish)
1 tbls of mild rape seed oil to garnish.
Method:

In a large saucepan of boiling salted water cook the spaghetti.
Meanwhile heat the olive oil (medium to hot until it is just smoking). Add the garlic and chilli. Just as the garlic is turning pale brown toss in the prawns.
Keep turning the prawns as you add the lemon juice.
When the prawns are no longer translucent (1-2 minutes) fold into to the cooked spaghetti with a decent dash of salt, splosh on the rape seed oil, toss in the flat leafed parsley and serve on warm plates.
Leave a reply