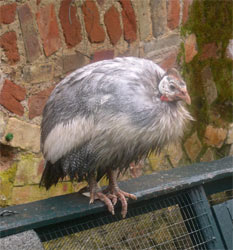 I opened the back door as John Coe was about to come through. He was speaking.
"I can hear her in the next garden."
I opened the door wide. His face crumpled when he saw that it was me.
He stood there wearing my uncle's old trilby and Danny's waxed jacket. It had been raining hard when I left for work so I'd kitted him out. As I wasn't expected back for hours he thought that I was Danny returning from a wild guinea fowl chase.
When he saw my expression, he looked a bit panicky.
"Who exactly is in the next garden?"
He looked at his feet and then addressed my right hand shoulder.
"The guinea fowl hen."
Before I left for work, he'd mentioned that the guineas didn't like him using the noisy strimmer by the run.
"They're going leary. They don't like it at all. They're flying up and squawking."
He had come in for a coffee to avoid a rainy downpour.
It did not occur to me to tell him to ignore the patch beside the run. I was running late and distracted.
After I left, he'd run the lawnmower over the strip by the chicken pen. It was finally all too much for Cloud. She literally hit the roof of the run, found a loose gap in the netting, escaped from the noise and flown out of our garden.
This is a semi domesticated wild bird. How on earth were we going to catch her?
We might be determined but can't fly, just yet. We left John to finish the lawn edging and I grabbed the broody coop. A frightened, short sighted guinea fowl might just be tempted inside.
It was raining heavily as we walked the long way around to the garden that backs onto the end of ours. I spotted her through the fence but she saw us and moved quickly into the paddocks beyond. There was a large expanse of grass and a sturdy grey horse in an exerciser. Cloud scuttled swiftly along the bank, disappearing into a soft drift of tall nettles.
Each time I caught up she flapped away, clearly terrified. Beyond the meadows were gardens with big dogs. She had to be contained quickly.
She flew falteringly in small bursts and luckily headed back into the neighbour's garden. There she just squatted, crouching low, apparently exhausted.
Wrong.
Just as I was just about to pounce she rushed away and settled behind an elegant summer house. D and I plotted a two pronged attack. He would roust her. She might flee around the house into the open broody coup. It worked. As I suspected she didn't spot the coop until it was too late.
Somehow in the wave of triumph and relief she escaped.
Danny's comment made me determined to catch her.
"She's our pet. We just have to get her back."
We finally managed to pluck her from a large unwieldy leylandii hedge. I carried her close under my arm and stroked and petted her all the way back home.
The strimmer/mower drama had beaten all fowl into the chicken house with the exception of her mate, Thunder. She rushed to stand beside him without acknowledgement.
I was working in that area of the garden that afternoon. My heart went out to Cloud. Clearly rattled, she didn't preen. Just sat on the roof of the Emerald Castle with feathers that stuck out at 90 degrees from her slim frame. Eventually Thunder noticed her distress and called from the ground below. She didn't answer but poked her head under a wing and rocked back and forth.
I was concerned. Had the shock been too much for her?
The next morning she was out in the run, neatly coiffured and had laid an egg.
Delighted that all was well, I wanted to hug her.
Leave a reply