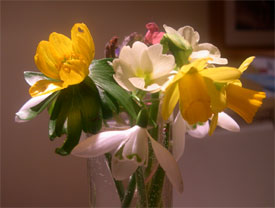 In January I decided not to buy flowers for the house for a year. With a garden of a third of an acre, I should be able to find something to bung in a vase.
However, I never give things up so this is a real struggle as I love flowers. I was helped this month by the freesias D bought me for Valentine's Day. And the last of the carnations that Tony bought a few weeks ago have just been relegated to the compost bin.
When I'm rich and famous I'd like a vase of flowers in every room. If this happens before December 31 2007, I'll have a problem.
I'm finding it so hard to heave my trolley past the supermarket flower displays. Even with a well oiled trolley, the wheels always seem to stick and twirl as I trudge the six yards. It would be best to stare straight ahead and think of something on my list, such as sturdy dustbin bags that D adds to the list each week and I always forget. But I can't resist having a peek at what's on offer and have begun to loathe the shoppers who are flaunting their flowers in their trolleys as they drift up and down the aisles, selecting food to eat as they contemplate vases filled with tulips and roses and daffoldils and lillies.
Yesterday my trolley was kind. I flew past the flowers display, grabbed some spuds and cornered with relief only to find a mini display of spring flowers. I was so tempted by 20 daffodils for 99p that I had to buy an almond croissant to distract me. We have hundreds of daffodils in the grass at the front of the cottage. I just have to be patient – a quality that was overlooked by the good fairies at my christening.
This month the vase of flowers is similar to January's. There are still loads of snowdrops and aconites scattered amongst the crocuses. We do have these teeny doll sized daffodils and lots of primroses. I discovered that the Pulmonaria is flowering. I love this tiny plant with its spotted leaves and pink and blue flowers. These small flowers make sweet posies but I like larger displays. Luckily a lot of the shrubs are ready to burst into action. The batchelors buttons and the forsythia are both muscling up to leap into our lives. The first cerise flowers are opening on our japonica (quince). So in a few days time we should have something a bit more substantial to delight us indoors.
Leave a reply