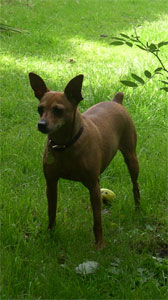 We feed our dogs a complete dog food with a topping that we cook ourselves. This used to be the meat from chicken wings. We'd buy trays from the supermarket and simmer them. The dogs thought this was pretty good too.
At five months,The Contessa gradually started to eat less and less. She lost weight, became withdrawn and grumpy. She spent a lot of time with her front legs stretched out and her bum in the air. This is known as 'praying'. Our local vet suggested AllBran to be served as a sort of all day banquet. She ate a bit and continued to slide downhill. Dr Q, The Contessa and I visited the local vet a couple of times more. Dr Q bounding over the doorstep, The Contessa cringing in my arms and me feeling like an over protective mum. This could not go on.
Eventually she got so thin that we stopped taking her out for walks. She slept on the sofa under a rug. We didn't know what to do. Eventually we asked for The Contessa to be referred to the The Queen's Veterinary School Hospital (the small animal hospital) in Cambridge. They had done so well with Dr Quito, perhaps they could wave a wand over The Contessa.
She has always been a nervous dog, only allowing a vet to examine her if Dr Q is lifted onto the table beside her. Many times I have been given a stethoscope and undertaken a faux examination of a happy, healthy Dr Q. He loves being examined. His heartbeat is deep and regular and he loved to have his ears fondled.
So both Min Pins were checked into the hospital. Dr Quito was delighted as he loves vets and all things veterinary. The Contessa wasn't so sure. The hospital discovered that her stomach was filled with tiny ulcers. No wonder she was grumpy. Apparently the pain would have been appalling.
Generally a vet would recommend a diet of chicken and rice in this circumstance. But the dogs were already eating chicken and a hypoallergenic biscuit. The experts scratched their heads. What could be causing the ulcers? The Contessa was put on a course of human ulcer medicine (there was no canine equivalent in those days). We were sent home with dogs and a simple diet sheet. Chicken and rice to be served for breakfast and supper. Despite the medicine, Contessa did not perk up.
After a few days, a talented young vet rang with a suggestion. She had a strong vibe that the chicken was causing the ulcers. Would we switch the diet to fish and potato? We could use any white fish. She tipped that most supermarkets sold large bags of frozen white fish at a reasonable price. I jumped into Jalopy and grabbed a pack of frozen coley from Iceland.
Dr Q was not amused. Where was his crunchy, tasty biscuit and chicken? Had we gone mad? The trial was initially for a month, eventually increasing to three. The Contessa began to put on weight and, within a week, barked at the postman and ran about in the garden. Dr Quito, meanwhile, was just eating to live.
The young vet had put her finger on the problem. And, as so often with an answer, we were faced with yet another problem. Finding dog food, biscuits, dental rasks and chews that do not contain chicken derivatives. 99.9% of all products for dogs contain chicken. If you see a small plump figure reading the small print on a new variety of dog food in the pet shop or supermarket it could well be me.
At the moment we stick to two varieties of the James Wellbeloved range of all in one biscuit (available from pet shops and garden centres) and a new all in one – Arden Grange (we found this in Waitrose). The latter contains chicken fat but The Contessa has had no adverse reaction so far (it's been 2 months). We top the biscuit with a dessert spoon of cooked mince, heart, liver or kidneys to give the dogs a bit of variety in their diet. Chews can only be plain rawhide or pig's ears and tails. Packs of tasty treats are generally out.
Min Pins are efficient killers of rats, mice and birds. Sometimes The Contessa clearly has bagged a bird unbeknown to us. The first indication is that she is 'praying' and off her food. The pain passes within hours, so after six years we have stopped panicking.
If your dog is showing similar symptoms to The Contessa a food allergy could be the culprit. Luckily for us someone eventually pinpointed the cause. Canine food allergies are so rare, The Contessa had suffered pain for over six months. She was insured, which was great, as it cost over £2,500 to find the answer to the problem.
Leave a reply