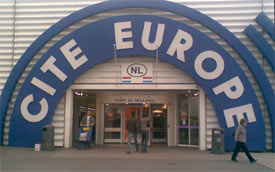 On Wednesday night I had a nightmare. I dreamt that I woke and glanced at the alarm clock. It was Saturday, 5.15 am. The coach had left for France without me. The disappointment was overwhelming.
Last night we set the radio alarm, two battery operated clocks and our mobile phones for 4 am. I had been invited to join the Tesco Social Club outing to France and Belgium by my friend Tessa. I was not going to miss this 'whistle stop back in a day' treat.
I was two minutes late for the pick up point but thank goodness the coach was later.
"If it doesn't come, let's go to Ipswich for the day!" Always positive, Tessa was buoyant.
But within minutes we were settled in our seats. Pockets stuffed with Euros and pounds.
"They will take anything. Pounds, Euros, Dollars. They just want your money." Tessa had explained.
We thundered through darkened Newmarket and out to the strange no man's land of floodlit motorway. I rarely travel by coach and it was good to relax in the soft seats. Far enough away from the driver not to be tempted to mentally drive the bus with him.
This was the first time that I had travelled in the tunnel. I tried not to think abut it on the run up to the trip as I have a horror of being closed in. The metal casing for the carriages are a bit off putting. But, when you see them, it is too late to make a fuss. Any anyway we were distracted, Tessa was opening the champagne and passing round her smoked salmon sandwiches. Internal doors close between the vehicles and you are comfortably shot across the channel.
The tunnel journey only takes 30 minutes. We were in Calais by 9.30. Just minutes to the car park for CiteEurope. Where I spotted several burly men pushing magnificently filled trolleys towards the parked coaches. Even I was impressed. What time had they got up to make the trip?
The thirteen conquistadores that were interested in chocolates and tobacco were in Belgium by 10.15. I was part of this motley crew. We stretched out on the vacated seats and slept all the way there and back.
The tobacco run was interesting. Two life sized models sprawled on seats outside The Tobacco Bar where roughnecks were quaffing large glasses of lager as we crept through to use the loo. A man with a giant chocolate Santa jostled the stream of shoppers who were clutching bulging bags of tobacco. I was amongst them. I roll my own cigarettes and have done for years.
Then we sped back to Cite Europe. A shopping mall with a difference. It just went on and on and on. A land of shops. We stopped for a cup of tea and studied the menu. Whoever had translated the menu had probably been drinking in that Belgian bar. Highlights included, 'deep fried plugs', 'custard with beer', 'lumpy eggs' and 'French toast with vanilla ice cream'.
We launched into the French supermarket, Carrefour, with a two hour time limit. I love French supermarkets. I had a mental list of what I'd like to buy but the place was a distraction of scents, fabulous produce and hundreds of English armed with petulant French trolleys.
By the end I felt sorry for the few local French shoppers that I spied occasionally. The English had taken over the supermarket and the main areas of impasse were the aisles of wine where my countrymen had set up an impenetrable defence.
I bought back some superb delicacies. I splashed out on a wonderful duck foie gras. This was the star of the show. Along with garlic, shallots, herbs, spices, great cheese, cut price rillettes, bulging packs of Palma ham and a few bargain bottles of wine.
By 8.30 pm this evening Danny and I were sitting at the kitchen table, feasting.
It was a wonderful, indulgent foodie day out. Thank you Tessa for inviting me.
Leave a reply