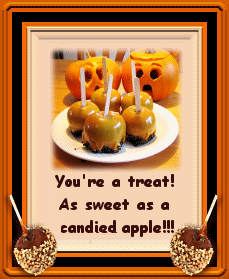 Happy Halloween everyone! I was delighted when Sara from Farming Friends sent me this award and I am passing it onto five other bloggers to celebrate the day.
Moonroot at http://moonroot.blogspot.com/
Primrosie at http://primsplace.blogspot.com/
KJ at http://crackinggoodegg.blogspot.com/
Leanne at http://somersetseasons.blogspot.com/
Pat at http://patsfoodblog.blogspot.com/
Meanwhile I will be rushing to John's shop to stock up on sweets just in case. We don't get many trick or treaters in the village but you never know.
This award was created by Anni at http://www.hootin–anni.blogspot.com/
Leave a reply