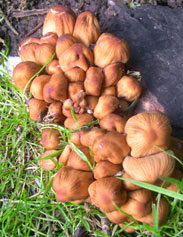 When I arrived at the cottage 15 years ago as a novice gardener, I discovered Honey Fungus. It was a bit of a blow. The name Honey Fungus sounds so gentle. It is not. Even then I knew that Honey fungus can decimate the shrubs and trees in a garden. Its progress is relentless, young shrubs and trees or old ones that are weak and diseased are most susceptible. Honey fungus is the MRSA of the garden.
I had bought a cottage with a field garden, with minimal planting. What was I to do?
If you discover Honey Fungus in your garden there are ways to treat and try and contain it, although in the end you have to accept that if you have it, it is probably in nearby gardens and it will return. The first thing to do is to familiarise yourself with how it looks. There are the mushrooms, and the "black bootlaces" that grow beneath the ground and spread the disease.
Initially I just removed the mushrooms and treated infected trees and shrubs with Armillatox and had some success with this. Then I planted Honey Fungus resistant hedging – the yew and the box. I also planted beech hedging and the trees and shrubs that I wanted even though they were not resistant.
All was well for a couple of years and then three old apple trees (these are very susceptible) in the orchard area started to die off. All good croppers and sadly missed. Since then, I would see the mushrooms beside an occasional shrub and within a year or so the shrubs would die. In the end I decided I was fighting a losing battle and gave up battling with the disease. The woods beside the garden are full of Honey Fungus.
When I saw the Honey Fungus mushrooms back in June 2007. My heart sank. I started to do more research and found this useful site. Although I didn't take his advice fry the mushrooms in a little butter, I have been following the instructions outlined in the article and applying the wood ash tonic. So far so good. Suddenly I am being much more proactive on the Honey Fungus front and feeling much better about it. Using this method of boosting the garden's defences is the route that I will be taking from now on.
I have also treated all the fruit trees that I have planted even though they show no signs of the disease.
Leave a reply