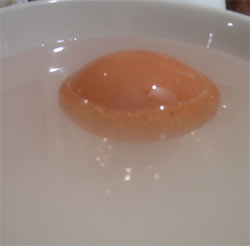 Fred measured the white powder out carefully.
"You do know that it's generally illegal to supply this now?"
I didn't but I nodded anyway as he tried to unglue the furred up spout of the salt carton. Impatient, he sliced the entire top off with his knife. Stunning Three Musketeers swordsmanship. He added the salt to the bag and shook the crystals together. He was mixing sodium nitrate (saltpetre) with salt as I was going to make my own salt pork for the very first time.
"You could make salt pork but you could also make a bomb!"
"Oh really?" I was intrigued.
"Yes. You had better not tell Danny what's in this little bag!"
Saltpetre used to be available from a chemist's shop. Now it is only available from butchers' suppliers. A good butcher's shop like Fred Fitzpatrick's (Exning Road, Newmarket) would be able to order it for you and work out the right mix of saltpetre to salt.
I had no idea that belly of pork is in fact untreated streaky bacon. When I saw the amount of salt and saltpetre that Fred had given me to salt the pork I was horrified. It filled a quarter of a 2 litre casserole dish.
"You need to get the salt and water mix just right. Float an egg (in its shell) in it – there should be roughly half a centimetre of the egg above the surface. If it's floating too proud, add more water."
"How long do I soak it for?"
"A joint that size (600g) will take 2 days. Then wrap it in muslin and hang it in the chimney over a slow log fire in your inglenook for an evening to smoke it."
The romance of the idea was captivating and distracted me from all thoughts of saltpetre and bombs in a trice.
Apparently it is very hard to buy salt pork in a joint these days. Fred explained that most butchers are supplied with ready cut streaky.
"But Mike bought some in Saffron Walden."
"Ah, yes. That would be So and So's ( I didn't catch the name). Probably the only place that you would get it in this region."
Mike had cooked a dish to die for. And with all the salt we probably will.
Boston baked beans tantalised me for hours as it simmered in his slow cooker.
"Beans in America are not like your UK beans. There's a whole range of them, sweet, spicy, with meat and so on. Did you know that the slow cooker was invented to make baked beans?"
Before I left that evening I begged him to leave me a taste for the morning. He was making coleslaw and briefly looked up as he sliced.
"Sure and I'll leave you same slaw too."
Mike wasn't home when I arrived the next day but had sent a text with the location of the beans and the coleslaw. I grabbed 2 teaspoons and rushed down to the fridge in the cellar. I allowed myself a teaspoonful of each as I knew that I could polish off his supper in a matter of seconds. The combination was truly amazing.
I will be cooking this at the weekend and will post the recipe next week.
Fred described the old fashioned English farmhouse way to cure my joint. I have found some useful bacon curing links:
As I write this the cottage is filled with the scent of smokey bacon – the log fire has done it work. Thanks Fred.
N.B. Update April 14th 2008. We now have perfected our recipe and method click here for our latest home cured bacon recipe.
Leave a reply