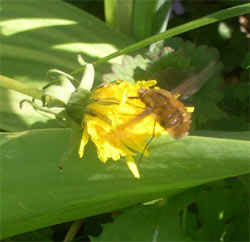 My first very own garden was barely three strides square. I was in my mid thirties and began planting with passion. It was the size of a giant's plant pot but small enough for me to scratch around with confidence.
It could be weeded in twenty minutes and was small enough to notice and cherish every tiny detail. When my clematis Jackmanni opened for the first time, I fell hopelessly in love.
The gardening bug is like a benevolent form of Malaria. It keeps on returning. You might take a year or two off but it will get you in the end. After a break, the tendency becomes as pervasive as daisies on a forgotten lawn.
At times it can dominate.
"It's just sandwiches tonight."
Is what I long to say when I finally kick off my boots to rustle up something a bit more substantial. When D is away I usually lose weight and never feel hungry.
Every garden is a series of small worlds, whether it's set within in a window box or a space large enough to walk through with the dogs. The magic is the same. If you look carefully enough every visit is a ramble.
It can be visiting insects, buds that finally open or a slim shaft of sunlight that suddenly lights something that has been growing quietly, unnoticed for years. Each is a moment to be savoured as every visit to a garden will be different. Nature can never stand still.
A large garden makes stage managing this journey of delights a little easier for the gardener. At their best, hedges can shield and extend the mystery and drama. A brilliant city balcony or tiny terrace of lingering surprises displays the true skills of a gardener.
However hard a gardener works, each garden can only be a backdrop to the wildlife. Who can forget the glimpse of butterflies chasing against a clear blue sky or swallows circling high on the wing for insects?
Early last summer in an overgrown Essex garden, I spotted my first hummingbird moth. It's a moment that I often return to. Standing in the long grass with the sun on my back absorbing the chrome yellow of the dandelions and sound of this beautiful insect foraging for nectar. Unforgettable.
Leave a reply