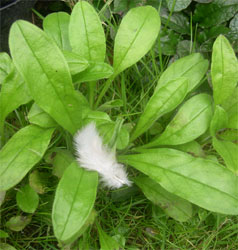 I went down to the chicken run this morning to check on the gang and give them their morning corn. There appeared to be a rumpled white paper bag inside the run. Then I saw the orange legs. Lightning was dead.
The grief was overwhelming. This small white bird had truly got under my skin. He (we never discovered whether it was a male or female guinea fowl) was so brave and adventurous and naughty. And being all-white, he was special. I love white birds. They remind me of angels.
I loved watching him grow up and discover his world. He was the first keet to fly, to taste lettuce, to disobey Mrs Boss. The other keets followed his lead. Somehow he had come to symbolise hope.
I stood by the pond and sobbed. The Min Pins, realising something was wrong, stood silently by.
After work this evening, we examined his small body. He had a broken neck and torn broken wing. We pieced together what probably happened and suspect that he got caught up in the briar rose that grows at the back of the run. In former days the run used to be a rose border. Gradually, over the years, the roses have died back but I left them in the pen as the hens love eating rose petals. We didn't realise that the branches could be a danger to an inexperienced and curious keet, testing his flying prowess.
As dusk fell I found my lopping shears and chopped the roses to the ground. Every single one.
Leave a reply