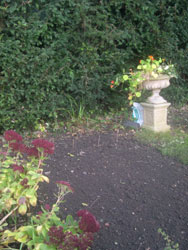 I was up earlier this morning than usual. To clear a bed in our kitchen garden so that John could dig it over and we could plant the broad bean seeds. This is the second year that we have sown broad beans in November and already it has become something of a ceremony. Discussed and planned for weeks.
"Shall I dig over this bed? There's nothing but weeds." John had said a couple of weeks ago.
"Don't worry. I'll do it. Next time that you come the border will be clear."
Unfortunately, I had fallen at the first fence. I had not prepared the bed for John. Mullien had self seeded across the bed and I had had plans for this extended family.
For the last five mornings I have planned to rise at six and dig. The warmth of the bed has seduced me. This morning I had even hoped for heavy rain which would keep John at bay. But a clear crisp morning greeted me when I drew back the curtains.
John arrived before I had finished the job. Along with a present of a pheasant, I spied a small box wedged into the top of his Wellingtons when he carried them into the kitchen. Halfway through our coffee I admitted that I hadn't had time to finish the patch.
John's face dropped.
Even though I cleared the border as he collected the leaves from the lawn, I realised that I had messed up, big time. Next year I will have the border ready.
We planted broad bean seeds at around the same time last year and they got off to a great start in the Spring. Large, strong plants, covered with flowers – a great potential harvest of beans. We guzzled the young tops and picked some baby beans. We continued to graze and harvest broad beans for weeks. Good fat beans packed with flavour.
There were plenty of flowers for a second flush and then the crop was struck suddenly by rust (a fungus that attacks the plants and eventually spreads to the pods). I put this down to the prolonged wet weather and the position of the plants. The broad beans had been planted in a rather shady border, overhung by sycamore trees.
Today the broad bean seeds have been planted in the best border for sun and warmth. I'm hoping that they will appreciate this honour and produce wondrous bounty next year. If you usually plant your broad beans in the spring why not try planting a few now? I am sure that you won't be disappointed.
Leave a reply