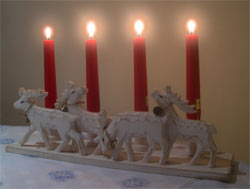 I used to pull out all the stops for Christmas and decorate the house from top to bottom. I loved doing this but it took weeks to set up and there was always a scramble to get everything down before twelfth night.
Christmas is a now a quieter celebration in every way.
I bought this pretty reindeer decoration at the church féte a couple of years ago. It is the one piece that is not packed away in the attic in January as it sheds its candles to double as a stamp rack for Danny through the rest of the year.
I love the placid reindeer heads and the simplicity of the group. As a stamp rack it reminds me of the best elements of Christmas. At Christmas it is washed, adorned with new candles and gently lights every meal.
Leave a reply