The best piece of kitchen equipment that I bought in 2008 was my slow cooker. I found mine in a sale at Tesco and had no idea how much more flavoursome slow cooking can be. So why did I buy one? I had been seduced by Angela and the thought of slow cooked steak and kidney. Initially I reckoned that I would just use it in the winter but it's used all year round now and saves us lots of cash as the electricity used to run it is minimal. And most things do taste better when they are slow cooked. Now I've got to grips with how to cook with...
read more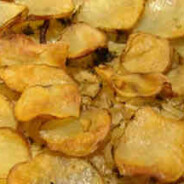 I like to bake food in the oven every now and then. Somehow I think that this releases me to get on with other things rather than keeping me anchored to the sauté pan or grill. So I prepare the dishes, work out the timings and pass responsibility over to a small green portable timer, that has a bleep so irritating that it can't be ignored. I decided to make Boulangere potatoes to celebrate Danny's first full trug of spuds. These are scrummy and low fat. They were to accompany pork chops baked in blackberry and apple jelly and oven braised...
read more
I tend not to buy lamb shanks as they usually look so weedy and unappetising. Last week I spotted a half price pack of two lamb shanks on the Tesco condemned food counter. These were quite chunky (just under a kilo) and the original price was pretty stout too. They had been reduced from £7.95 to £3.50. So naturally they ended up in my trolley. I decided to try just using ingredients that were knocking about in the fridge and larder and devised this dish that would easily feed eight. The combination of carrots, tomatoes and red wine worked...
read more
"Let's try making the Spanish Lamb in the slow cooker. It will be cheaper than using the oven and it might enhance the flavours even more." It was better than the oven baked version, with more depth of flavour and the joint remained plump and succulent. This is a great, easy dish for lazy entertaining. Just a few minutes preparation and then you can sit back as it turns into a delicious melt in the mouth lamb. The tantalising sauce tastes as if you have been slaving away for hours. Cooked a day in advance the dish sang. The fat was...
read more
"A typical meal at home doesn't consist of a main course and vegetables. Rather a pot of rice and a lot of side dishes," Danny's friend Dipak confided, a year or so ago. I remembered the remark this week. Had I started making side dishes for curries and frozen some portions, I would now have a selection in the freezer for mid week meals. On days when I long to reach for the telephone and order a takeaway. I make a good raita but this has to be run up and eaten immediately. Why not add some other dishes to the freezer...
read more
My mum tried Soya mince once and never again. I can still remember the shriek. Danny's mum also tried it once. Perhaps they read they same article. About a month ago I was tootling around the Daily Bread Cooperative with my mum. I spotted a shelf of Soya products and was about to accelerate past when I thought I'd stop and investigate. Soya is gluten free and packed with protein, vitamins and minerals. It's a high yield product, so it's cheap. They were offering Soya mince and chunks (these seemed to look a bit like dog...
read more