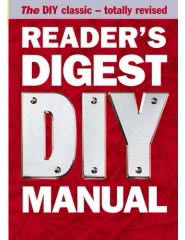 I bought my copy a few years ago in Homebase. It lives in Jalopy underneath the passenger seat and has proved to be an invaluable tome. If I brake too fast or corner too hard it shoots out of its den and hits the wall of the footwell, hard. Instantly chastened, we continue our journey at a more sedate pace.
Its authority has given it an edge. I do most of the repairs at the cottage and the book has become an intelligent friend. Even though there are sections that I have to open with a letter opener (it slipped into the bath one night when I nodded off) I find it invaluable.
The DIYers of the old school, who bought the original 1970's ring bound version, often scoff at this updated book. It doesn't contain the old 'projects' section. But it does cover the new DIY legislation, gives great advice and is easy peasy to follow. If you knew absolutely nothing, this book could get you safely out of a tight spot and earn you mega brownie points.
When it comes to repairing the cottage, this book is my wise mentor. It has taught me how to render, plaster and repair rotten window frames. It has taught me the basics on guttering, valleys and roof ridges. Being a book, it can only show you what to do and never nags. The secret of a great ongoing relationship.
If cash is tight the Readers Digest DIY Manual
will help you fix a vast swathe of problems, save you money and give you a massive sense of achievement. All this for less than the price of a decent takeaway for two.
Leave a reply