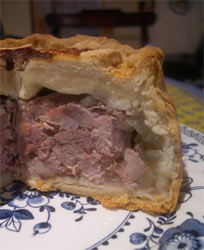 I've always wanted to have a go at making pork pies. I even bought a tiny funnel for adding the jelly a couple of years ago in the faint hope that I would have time to try over Christmas.
When The Chicken Lady admitted to a similar dream I retrieved the funnel from the depths of the equipment drawer and pounded up to the top of the village with some plain flour, a large block of lard and a couple of pork hocks with trotters.
My mum has given me her treasured farmer's cookbook Farmhouse Fare
(first published in 1946). So I took that too.
We found an ancient recipe that was a hundred years old in 1947 and tweaked the spices a bit. The pies were easy to make but getting the pastry off the moulds proved to be a bit of a tussle. Having popped them in the freezer, to speed up the process a bit, the moulds and pastry cases had become one.
We eventually made two large old fashioned pork pies which were chilled and ceremoniously cut last night. Filled with chopped pork and a good jelly the pies were guzzled as we smoked some back bacon and pork hocks in the inglenook.
These are light years away from the salty shop bought pork pies and very tasty. We reckon that we can improve them a bit more before sharing our recipe with the world.
Leave a reply