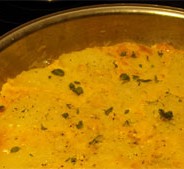 We were given three chunky bunches of young asparagus. Washed and tied neatly with string. When I dropped them into the basket of the asparagus steamer I suddenly realised the wisdom of the string when they didn't flop tails above the water or drop through the basket. The three bunches sat upright in the water. The bottoms simmering as the delicate tips basked in the steam.  We had a bunch each, served with melted butter and lashings of pepper. Unbelievably good. Ultra fresh asparagus is angel food. Danny leant back in his chair and sighed...
read more
When I was a wooden toymaker I made a small car, simply shaped, immensely tactile. My sister christened it the Dumpy Car. I knew in an instant that the name would sell the car. I'd listen to people chatting about the toys on the stand. If I heard them mention the Dumpy Car, I knew that they were likely to buy. The words sound comfortable and solid, good in the mouth, with just enough resonance. I sold thousands of them. Danny has a problem with the name "bake". "Never make us a bake. I'd have to leave. Just...
read more
Although we are in the middle of the asparagus season it wasn't until last week that I found English asparagus on sale locally. I bought a couple of bunches, put them in a large jug of cold water and forgot about them. I spotted them a few evenings later, looking less than their best so I snapped off the tops and made these savoury tarts. Perhaps it was desperation to get the best possible return on the small harvest that made things move up a gear in the cottage smallholder kitchen. Or possibly the fact that Danny had left a tempting...
read more
Ever since Gilbert told me that the easiest way to cook perfect asparagus is to use a steamer, I've wanted one. Until then I suspected that they were a bit faddish. Just another bit of kitchen equipment that we could do without. Gilbert thought the same until his sister sent him one for his birthday. To be polite, he thought he'd give it a whirl and was instantly hooked. It's a well designed bit of kit. All you need to do is rinse the asparagus and snap off the woody ends. The asparagus stands upright in the steamer, with the...
read more
It was my turn to cook tonight. On the way down to Essex this morning, I decided to cook kedgeree. I had found some traditionally smoked Haddock in the freezer. The bag looked small so I poked about for something else. We had the remains of a pack of uncooked tiger prawns. Danny is 54.5% keen on kedgeree as a supper dish, this might tip him over to 64.5%. Especially if he had a starter of asparagus. On the journey home I changed my mind and decided to make an asparagus and smoked haddock risotto. Everything would be in the one dish. The...
read more
Five years ago my friend Bunty mentioned this recipe to me. "If you are pressed for time. This asparagus dish is lovely. It is classy." She twinkled so much that I knew that this was a good dish. I was not tempted. I love asparagus. Plain and steamed to a point where it still has a bite. Served with hollandaise sauce or melted butter. Why would I want to try a dressed up asparagus dish when I prefer my asparagus naked? Today I visited Fred Fitzpatrick's and bought some excellent thinly sliced smoked ham. I grabbed the last...
read more
We've had rather a gruelling time recently. Just wall to wall work plus projects, blog and garden. It's very easy to get things out of proportion. I found myself driving down to Essex, gripping the steering wheel and fretting about not getting all my seeds in on time. So I earmarked Sunday to catch up. Not with a frenzy of seed planting but a lazy long morning in bed with the Min Pins and the laptop. I find that catching up on relaxing is often the best answer for stress. Somehow, miraculously, everything falls into place. So what...
read more